... welcome to the very first homepage of ...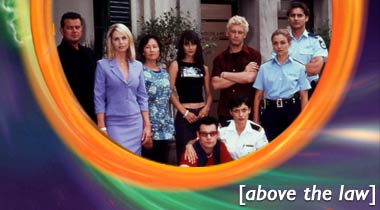 Created by: Tony Morphett and Inga Hunter
Produced by: Hal McElroy and Columbia Tristar
Executive Producers: Hal McElroy and Di McElroy
Producer: Rocky Bester
Script Editor: Christina Milligan
Originally Aired: February 01, 2000...
Filmed in Sydney, Above The Law is a one-hour weekly series from the creators of Blue Heelers, Water Rats and Murder Call. Production commenced in September 1999, with the series debuting on Network Ten in early 2000. Above The Law is a character-driven drama series set in an apartment block featuring a police station on the ground floor. The cast consists of a diverse range of roles, with the core being young characters.
About the Show
The Characters
Episode Guide
Fanfiction
Mailing Lists
Links
Email
Sign My Guestbook
View My Guestbook
---
---
Last Updated: 02-April-2000
Disclaimer: I do not own any of the characters or storylines, they all belong to Channel 10, Di & Hal McElroy, Tony Morphett and Co. This page is for entertainment purposes only. Please do not sue me, besides I'm probably getting more people intereted in the show anyhow ;-)