... welcome to the very first homepage of ...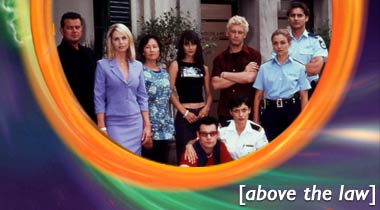 = Episode Guide =
A Princess in a Tower - That's Bear Talk for the Broken Hearted
Episodes 01 and 02
Premiere: Tuesday, February 01, 2000
Above the Law, a new Australian drama revolves around the lives of a group of young people who have one thing in common - they all live or work at the Metro — a funky inner-city block where there are as many stories as there are apartments, where a caf and a community police station make up the ground floor and where the penthouse is owned by a corrupt businessman who enjoys the irony of living above the law.
Zoomboom
Episode 03
Premiere: Tuesday, February 08, 2000
Olivia confronts her father in gaol. Belinda's stalker closes in. Vicki's love life takes a turn for the better and Con becomes the target for a ruthless assault.
Snapshots And Cottontails
Episode 04
Premiere: Tuesday, February 15, 2000
Belinda's worst nightmare is about to come true. Debbie finds an unwanted intruder in her bed and the attraction seems mutual for Matt and Olivia.
Send in the Clowns
Episode 05
Premiere: Tuesday, February 22, 2000
Olivia takes charge of her father's business, but soon realises there'll be a heavy price to pay. Debbie's ex-husband has unfinished business with her and Con has strong feelings for Belinda.
Behold A Pale Horse
Episode 06
Premiere: Tuesday, February 29, 2000
Olivia's decision to sell her father's stables could be her biggest mistake yet. Belinda confronts her demons and Con's love life takes a turn for the better.
Wiser Counsel
Episode 07
Premiere: Tuesday, March 07, 2000
Olivia makes a final decision about her father's stables. Difficulties handling the aftermath continue for Belinda and Con takes matters in hand.
Sweet Rides
Episode 08
Premiere: Tuesday, March 14, 2000
Olivia's decision may put Pete's life in danger. Vicki becomes the main suspect for Sean's Murder and Belinda is rapidly reaching breaking point.
Little Acts Of Kindness
Episode 09
Premier: Tuesday, 21 March 2000 at 9:30 pm
A serial killer may be at large when bodies are discovered in the park. Con pursues the unknown assailant. Belinda goes to London to recover from the traumas of the last few months. Vicki attends Sean Rielly's funeral and Olivia and Bill are at odds with each other after a threatening visit.
Chaos Theory
Episode 10
Premier: Tuesday, 28 March 2000 at 9:30 pm
The day of reckoning is coming for Vicki as she realises she may be charged with the murder of Sean.
Full Disclosure
Episode 11
Premier: Tuesday, 4 April at 9:30 pm
Olivia overhauls Pete's business accounts; Matt is not coping with the combination of Skez and Kenworth; and Debbie and Con investigate a series of thefts.
Special Services
Episode 12
Premier: Tuesday, 11 April at 9:30 pm
Bill employs Stan the Fingers to go over Joan Bartlett's books when he realises that she has been siphoning profits into a business on the side. Vicki introduces Josip to the gang and Debbie's hangover gets worse.
Happy Families
Episode 13
Premier: Tuesday, 18 April at 9:30 pm
Con has a hot date lined up with Annie and Matt gets jealous. Vicki is worried after Skeez goes missing. She tracks him down at the rave club, where he tells her he wants nothing more to do with her. When Sunny mentions to Bill she is having problems with her twin daughters, he takes it upon himself to lecture the twins which triggers a runaway situation. Bill finally tracks Isobel down, however Teresa is still missing. Debbie's brother Michael, whose parents do not know he is gay, decides it is time to come out and Debbie worries about the repercussions.
Backlash
Episode 15
Premier: Tuesday, 25 April at 9:30 pm
Sunny's daughter Isobel recounts the horror of being kidnapped and is ashamed she was not able to rescue her twin sister Teresa. Bill guesses Forbes and Joan Bartlett kidnapped the girls in retaliation for closing down their pornography racket. Meanwhile, Debbie's life takes an interesting turn with the arrival of a handsome journalist, Jack Glover, who is writing a story about community policing for a local rag.
Lives of the Party
Episode 16
Premier: Tuesday, 2 May at 9:30 pm
It's party fever when Vicki and Skeez decide to throw a house party in Michael and Nathan's absence. Matt sees the party as the perfect opportunity to take charge of his relationship with Olivia and invites her to the party as his date. Con and Debbie's relationship heats up...
Daddy's Girl
Episode 17
Premier: Tuesday, 16 May at 9:30 pm
When Skeez discovers that Caitlin, an old friend of his is pregnant to Oliver, who has now left her, he promises to give her all the support she needs. But Skeez's desire to help is soon overtaken by an obsessive love for the unborn Lily. Meanwhile, Vicki is despairing over meeting Mr Right. When Debbie suggests she's been looking for the wrong qualities in a man, Vicki starts to wonder if Josip might be her Mr Right.
Redline
Episode 19
Premier: Tuesday, 23 May at 9:30 pm
Con is torn between his job and his friends when Tibor and Sam his childhood pals, break the law. Meanwhile, Debbie is also grappling with issues of where to draw the line, when she discovers that a young boy in Con's basketball team is continually vandalising her building.
---
Home | About the Show | The Characters | Episode Guide | Fanfiction | Mailing Lists | Links | Email
---
Last Updated: 28-April-2000
Disclaimer: I do not own any of the characters or storylines, they all belong to Channel 10, Di & Hal McElroy, Tony Morphett and Co. This page is for entertainment purposes only. Please do not sue