... welcome to the very first homepage of ...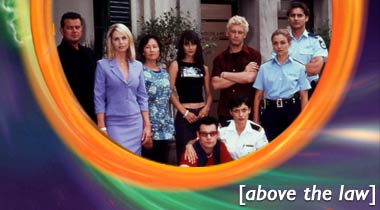 = Scott Burgess
as Bill Peterson =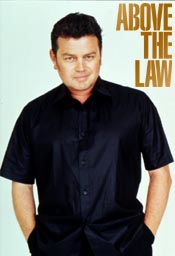 "Bill Peterson," says Scott Burgess, "is kind of a 60s guy living in the 90s. He's a hard man from the old school and everybody's guardian angel." Hence he has taken care of Pete Murray for over 20 years, doing driving, debt collecting and personal protection. He's not a criminal as such, but he has spent time on the inside as a result of a favour he did the Murray family, and because of that he has a job for life. "Basically, Bill has a good soul and is a decent person, but he also has this edge. I'm having a great time exploring his character," Scott says.
As for working on Above The Law, Scott says: "We're all having a really great time, and finding out that it's quirky and offbeat, and that suits my personality."

Scott Burgess has enjoyed nearly two decades as a well-known Australian television actor, launching his career with his role as Billy McKenzie in 1981 with 1915. Credits since then include The Cattle King, The Great Bookie Robbery, Dirtwater Dynasty, Willesee's Australians, Tracks of Glory, and Cody. His most recent popular television role has been that of Dave McCall in Water Rats.
---
Home | About the Show | The Characters | Episode Guide | Fanfiction | Mailing Lists | Links | Email
---
Last Updated: 18-March-200
Disclaimer: I do not own any of the characters or storylines, they all belong to Channel 10, Di & Hal McElroy, Tony Morphett and Co. This page is for entertainment purposes only. Please do not sue